Koh Phangan
---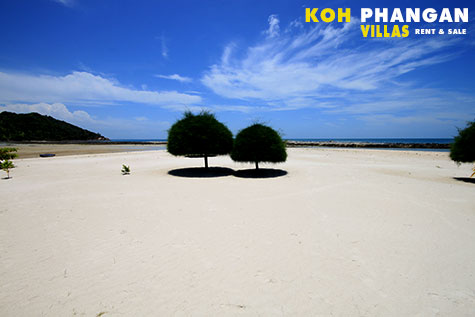 One of the most peaceful Island's in Thailand yet it holds one of the biggest fullmoon parties in the world. Sister Island to Koh Samui, Koh Phangan has beautiful beaches and that relaxed atmosphere that you feel the moment you arrive on the Island.The Island has become very popular for yoga, retreats and spa resorts. Its sister Island Koh Samui is already become a capital of Thailand for its spa resorts, healing retreats and yoga centers. Phangan a smaller Island is becoming a top destination for such activities. The Island that is well known for its once a month full moon party also has great amount of other activities to do, with its dense jungles and many waterfalls in the interior of the Island this opens up a whole range of fun activities to do. Trekking to the highest peak Khao Raa is one such activity that is only for those that are fit and up for the challenge. Other activities are elephant riding, quad biking, mountain biking and even paintball. But what most people come to Koh Phangan for is to party then relax on one of its many beaches around the Island, and Koh Phangan has some wonderful beaches, which are a real spectacle to see and most of the time you think you are looking at that paradise postcard. Beaches on Phangan are very beautiful and some of them are only accessible by boat. Local taxi boats will take you from coast to coast for a few hundred baht and its one of the best ways to see the Island. Beaches like Bottle beach are a real treat to visit.
Koh Phangan Accommodation
The Island has a number of beach resorts to stay and hundreds of beach bungalows all at extremely low prices, accommodation does vary across everyone's budget right up to five-star resorts to cheap little wooden bungalows.What ever your budget you will find a suitable hotel, bungalow or even a private villa. Koh Samui is one of the capitals of the South of Asia for its villas and Koh Phangan is a part of that because there are a good percentage of villas on Phangan that are rented to tourists.A villa in Koh Phangan is a great choice for accommodation for your holiday and a good selection of the villas on Phangan are luxury styled.Hotels in Koh Phangan are also a good choice and some great resorts are located on Phangan. Most the resorts are next to the sea or on the beach which makes every accommodation rather special. You will find that there are only a few five star resorts but a good dozen of four star.
Phangan is a rather peaceful Island and tends to get a little busier during the full-moon parties. These are mostly backpackers traveling from other places who come and stay a few days for the full-moon party. In between full moon parties the Island is very relaxing and many of the beaches are fairly quiet. This makes it a great place to have a holiday with your family, peaceful beaches and chill-out restaurants and bars on the beach.Koh Samui is 25mins away by fast ferry boat.
Koh Phangan –
AREA :168 Km squared
Location 55km from the mainland of Southern of Thailand (Surathani). Between Koh Samui and Koh Tao Islands in the Gulf of Thailand.
Population Approximately 12000 locals
Nature trails: 20 km of trails (recommended Khao Ra Mountain, from Haad Khom to Bottle beach, Doma Sila view point at Phaeng waterfalls).
National Park : Than Sadet National Park, takes ups 40% of the Island.
More information on the Island Koh Phangan